Print This!
---
Financial markets moved higher on Monday after reports of progress on the fiscal cliff front.
The Wall Street Journal reported significant improvement in the previously deadlocked negotiations:
While the White House objected to major parts of the proposal, senior Democrats described it as a tipping point that moves talks away from deadlock. Instead, it cleared the way for both sides to engage in nitty-gritty haggling over exactly where the new income threshold might be set and what should comprise the spending cuts.
The S&P 500 tacked on 16 points and closed near the high for the day. Investors and traders have been waiting for signs the stalemate in Washington was moving toward a framework for compromise. The Wall Street journal hinted at just that:
One Democratic official close to the talks described the offer as a "breakthrough" that allows negotiations to proceed. A GOP official, cautioning that no deal was done, said he believed that any agreement would look something like what Mr. Boehner had offered.
Bullish Credit Spreads
The market's shift back to "risk-on" Monday was supported by bullish moves in credit spreads; long-term Treasury bonds (TLT) closed near session lows, while "junk bonds" (JNK) closed at the high for the day – both support the bullish case. The move away from conservative Treasuries and toward lower-rated bonds signals decreasing fears of a cliff-induced recession.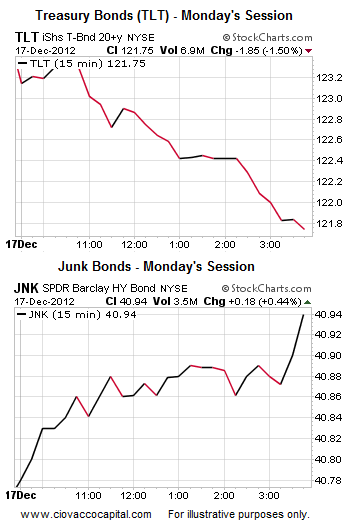 Small Caps & VIX Align With Risk-On
On Monday, small caps and the VIX showed an increasing appetite for risk assets and a reduction in cliff-related fears. Small caps (IWM) surged into the close. On the other end of the risk spectrum, the VIX dropped like a rock between 2:00 – 4:00 pm ET. We noted last Friday the performance of stocks relative to bonds was hinting at bullish outcomes. Monday's bullish moves in the credit markets, small caps, and VIX provide additional support for further upside in stocks from a probabilistic perspective.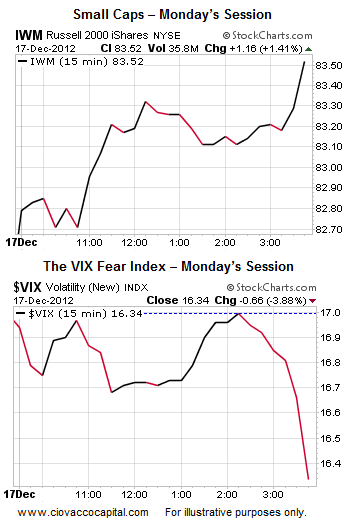 Big Picture Has Bullish Slant
The video below contains analysis of numerous markets, including the Dow, NASDAQ, S&P 500, and German DAX. The big picture, even prior to Monday's gains, continues to favor the bullish camp.
Click here to view video

.


Disclaimer: The content included herein is for educational and informational purposes only, and readers agree to Wall Street Sector Selector's Disclaimer, Terms of Use, and Privacy Policy before accessing or using this or any other publication by Wall Street Sector Selector or Ridgeline Media Group, LLC.

Go to Wall Street Sector Selector Home or Check our Special Wall Street News Section